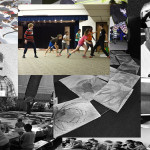 Kreativ U-Turn Apprenticeship Project
by The Milkweed Collective
Produced in  partnership with The City of Toronto's Cultural Hotspot
This year found me fully engaged as Director of an exciting new venture by The Milkweed Collective to train 7 emerging artists (18-24 yrs) in the creative imagination (Exploring Creativity in Depth® (ECiD) and then set them out into the community to design and direct summer arts programming, followed by the production of a finale multimedia exhibition & performance during Culture Days. It's been a privilege to work with Austin Clarkson, Director of the Milkweed Collective, and with a team of 3 senior Milkweed staff and 7 very talented emerging artists.
The project proved so successful that the City offered the Milkweed Collective a Legacy Project which supports continued mentoring of 7 emerging artists, who have now formed the KUT 7  collective. KUT 7 is presently offering two Winter Arts Camps and planning for 2 more during March Break in selected Etobicoke libraries.